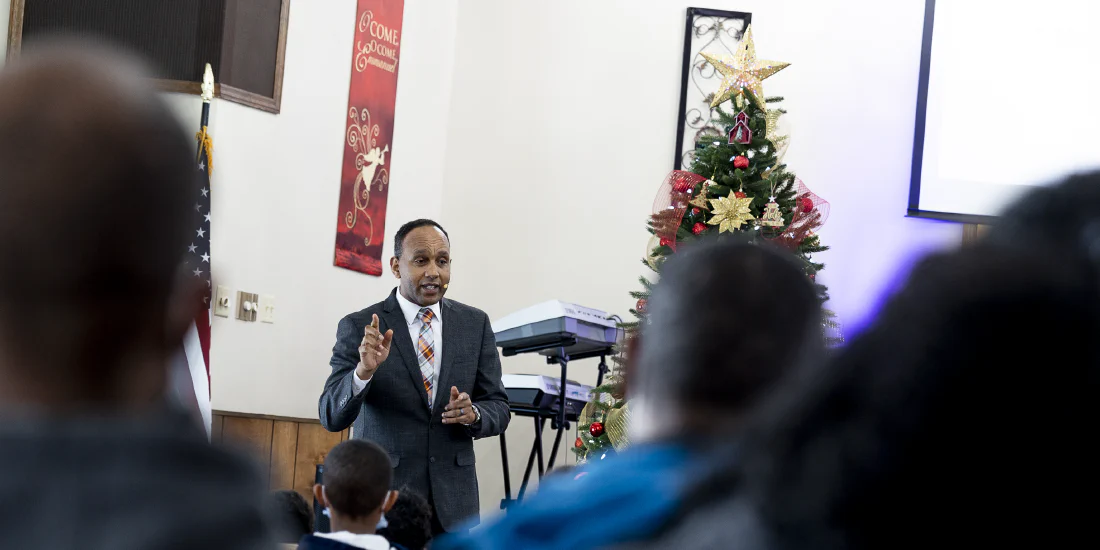 Lent 2023 Somali Outreach Mission Story
8 But God demonstrates his own love for us in this: While we were still sinners, Christ died for us. 9 Since we have now been justified by his blood, how much more shall we be saved from God's wrath through him! 10 For if, while we were God's enemies, we were reconciled to him through the death of his Son, how much more, having been reconciled, shall we be saved through his life! Romans 5:8-10
During Lent, a Somali Christian brother, Musa, and I went for a prayer-walk in the Somali neighborhoods asking the Lord to open the heart of these neighbors to know Jesus Christ as the only true Savior and Lord.
The Lord heard our prayers and has brought several Somalis through the Gospel we shared. One very cold Saturday morning, after two hours of prayer-walking around Capital Park in North Columbus, I received a telephone call from my other Somali Christian brother, Barak, that a Somali Muslim woman needed a prayer. Immediately, I went to visit this woman (Amena) who lives in that vicinity.
When we met, I asked Amena if she knew Jesus. Amena instantly replied, yes, I know Jesus the son of Mariama (Mary in Arabic). I further asked Amena what else do you know about Him, and she added, I know Jesus did so many miracles. I followed her answer and asked Amena if she could say anything else about Jesus. Amena replied, "It bugs me when people say Jesus is the Son of God, and that God let His Son die on the cross."
In the meantime, Amena shared about her background, how she comes from a minority tribe in Somalia and most of the wider Somali community looks down on her and some are even judgmental about her. What a great moment to share the Good News of Jesus with Amena! I proclaimed to Amena: that is why God send His only begotten Son to die on the cross so through Him we can be saved from judgment and sin. Yes, people might judge you because of your background and weakness. But the Bible says God loves us while we are still sinners, and He gave His Son to die for us. God loves and accepts you for Jesus' sake regardless of your background.
Then Amena paused, as her realization of Jesus expanded. Referring to Amena's prior statement that she knows Jesus did many miracles, I stressed that the miracle above all miracles was that Jesus willingly died on the cross on our behalf, and on the third day He was raised from death to give us eternal life.
With the Holy Spirit at work, Amena was now open for me to pray for her in Jesus' name. Barak and I joined in prayer to pray for Amena as she was willing to trust in Jesus. The next day, Amena visited Ebenezer Church. Ever since she is open to learning more about Jesus.
It is amazing, Amena's neighbor now comes to Church with her. Currently, she is also open to knowing more about Jesus, Church and our fellowship. Thanks be to God for His work among the Somalis.
Please Pray:
Please continue praying for the Holy Spirit to work in the hearts of Somali Muslims through the Gospel we share with them every day.
Please pray during this forthcoming month of Ramadan, as the Somali Muslims start fasting in search of meaning in their religion. Pray that Jesus Christ will be made known to them.
Please pray for Somali Christians in need of safe places to stay/live, fellowship, and worship.
Please support the work of Somali mission outreach by sending your financial donations to COLIM (Central Ohio Lutheran Immigrant Mission).
May the Lord richly bless you!
For Christ's Mission,
Pastor Berhanu Arsse